Today, tear bottles are used as symbolic gifts of emotion -- for joyous occasions like weddings and birthdays, as well as for the more historic reasons such as mourning and loss. In times of sorrow, a lachrymatory is the perfect gift to share your feelings.
The powerful symbolism behind the tear bottle continues to provide today's writers, musicians and artists with content for their poetry, song and painting.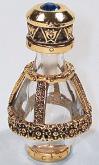 Dan Gerhertz has been created a beautiful painting, titled "The Tear Bottle". In this piece, a seated woman leans over an elegant lavender-colored glass bottle, allowing her tears to fall silently into the lachrymatory. This painting can be seen on the Collection Shop web site.
Several glass artists and manufacturers are producing contemporary bottles. Bill Flenniken has created a unique handmade necklace version and Timeless Traditions has created a series of standing lachrymatory.