The most accessible lachrymatory are newly made ones. In this category there are still several groups to chose from; artist made, manufactured, and mass produced. Each has its own appeal.
Artist Made Lachrymatory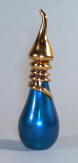 These bottles are hand-made around the world by glass artists who specialize in creating beautiful and unique works of art. Each artist brings their own unique style and each bottle is slightly different from every other. Nearly every community has at least one glass artist, so there are a nearly unlimited number of artists to collect. The bottle at right was produced by Barbara Dillon, a glass artist in Big Sky, Montana.

Bill Flenniken, a glass artist in central Texas, makes lachrymatory bottles, along with laboratory glass. His remarkable creations are designed as necklaces, so your tears can be close to your heart.
Artist blown bottles in the U.S. can range from $18 to over $100. Most seem to range from $35 to $50. Artist bottles made in most other countries are typically in the same price range. Be careful to avoid mass produced bottles represented as artist made.
Manufactured Lachrymatory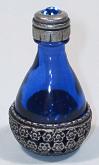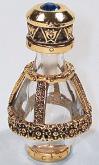 These bottles offer a high level of quality and a variety of styles. While many companies produced elegant bottles in the 1920's and 1930, there are few sources for manufactured tear bottles today. Timeless Traditions incorporates French glass work and American metal work to create a remarkable line of tear bottles in a variety of styles. Each of their styles are based on ancient traditions.
Prices range from $26 to $50 depending on where you purchase them.
Mass Produced Lachrymatory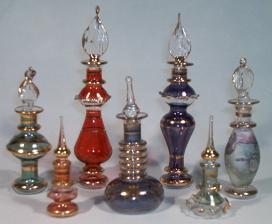 For a collector looking to build their collection quickly, this might be the way to go. The most common mass produced bottles come from Egypt and the Middle East. Many are hand-blown, although variety comes from the multitudes of workers, not from the artistic abilities of the workers. Most of these creations are actually made as perfume bottles, but based on the ambiguity of ancient traditions, this doesn't necessarily reduce their value.

Another type of mass produced bottles use perfume bottles with metal icons or figures glued on. Some of the most beautiful examples of this style come from Czechoslovakia. Most of the bottles are large and more appropriate for perfume.

Another intriguing style (at right) incorporates popular images, like dragons, kittens, eagles, and other animals into the pewter metal work. These bottles are still produced as perfume bottles and marketed as tear bottles, but they offer an interesting option to round out your collection.
Prices range from $2 (for the smaller Egyptian bottles) to $16 (for larger bottles). Retail prices can go up to $30. I acquired the entire collection of seven Egyptian bottles above for $21.
If you learn of any other artists or manufacturers that should be listed on these pages, please let me know.
Copyright Info: Blue and gold bottle created by Barbara Dillon, Bozeman, MT. Red necklace bottle produced by Bill Flenniken, Driftwood, TX. Blue pewter and gold banded bottles created by Timeless Traditions, Bozeman, MT.