If you are interested in tear bottles, there are other types of collectible bottles you should know about. An interesting challenge is that sometimes you can't tell these different bottles apart. There are lots of Internet resources for each of these, so it is easy to learn more if you are so inclined.
Perfume Bottles
One of the most popular and affordable collectibles is perfume bottles. These unique bottles range dramatically in size, shape, origin, design, color and treatment.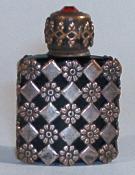 They also range from common and affordable to rare and expensive. The most distinctive aspect of most tear bottles is the applicator built into the cap.

Typically a long rod, it allows the user to dip into and apply the perfume. An authentic lachrymatory will not have an applicator built in. As you can tell from the images, I am personally a fan of metal encased bottles. There are wonderful examples of intricate carved and molded glass perfume bottles at the International Perfume Bottle Association. They are a definite first stop for anyone interested in exploring perfume bottles. The multicolored Eqyptian bottle is my favorite in that style.
Snuff Bottles
Here is another group of beautiful small bottles. Snuff bottles are used to hold and dispense a fine tobacco powder that is inhaled through the nostrils. Snuff bottles have been produced worldwide, although many of the oldest and most unusual are from China.

You can see the "spoon" attached to the cap on the bottle at right. The spoon is used to scoop the tobacco and bring it to the nostrils. Hengshui Arts & Crafts Factory gives a contemporary Chinese perspective.
Bottle Collecting
If you find snuff and perfume bottles too restrictive, there are lots of support groups to help you out. Collectors focus on bottles for medicines, soda, liquor, food, and more. Check out our link page for links to other types of bottle collecting.
Good luck building your collection.